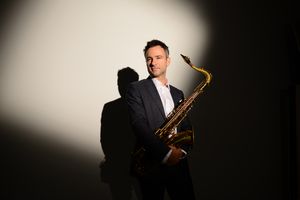 "Adrian Cunningham is more proof that there's 
a lot going on in Australia's Jazz scene."
Album Review, Cadence magazine, New York, October '05
"Cunningham's tender clarinet work..epitomizes sophistication and grace."
DownBeat Magazine, Lerner and Loewe album review 2019

"Adrian Cunningham's saxophone solo actually 
had me making whimpering noises in the front stalls"
The Independent, London, Oct '05. 
Review of performance at Hackney Empire, London.


"Possibly the only young saxophonist with a sound reminiscent of Eddie Miller"
The Wall St Journal

"Adrian Cunningham's clarinet playing saved the day for me."
The Star, Johannesburg

"One of the unexpected joys of the album is the rich, woody clarinet of Cunningham"
 Hot House Magazine, New York (Wycliffe Gordon CD review)




          
Reviews
Ain't That Right! CD Review
The Australian
SYDNEY saxophonist, clarinetist and flautist Adrian Cunningham took up residence in New York in 2008. Since then he has flourished and taken off for appearances around the globe. It's easy to see why. He's a highly competent musician and multi-instrumentalist. This album continues Cunningham's immersion in a brightly polished mainstream genre. There's nothing here that couldn't have been heard in the swing era of the 1940s, and composer Neal Hefti's compositions provide a perfect vehicle.
The opener The Odd Couple sets the scene: accomplished playing, albeit with a heavy dollop of musical horse-play, plus trombonist Wycliffe Gordon added to Cunningham's quartet, as he is on three other tracks.
Eight of the 13 tracks feature the leader on clarinet and at times the featured clarinet, piano, bass and drums could easily be the Benny Goodman Quartet circa 1942. Cunningham moves confidently between tenor sax and the other two instruments on these familiar tunes.
The tenor drawls lazily through Girl Talk, romps through Shanghaied, and swings commandingly into Cute. The clarinet moves quickly through a bluesy gospel theme aided by Dan Nimmer's piano on I've Got Love, from Sex and The Single Girl, while Ain't That Right is given some fast-flowing solos on flute.
Flute leads in a sprightly Suspicion, the theme from the 1965 Jack Lemmon comedy How to Murder Your Wife. Diehard swing fans will enjoy this collection, and others, while appreciating Cunningham's technical ability, may wish for more exploration and originality. 3.5 stars.
John McBeath
---
Ain't That Right! CD Review
Jazz Weekly

YO! Adrian Cunningham: Ain't That Right! The Music of Neal Heft!
Here's a great idea done right. Woodwinder Adrian Cunningham brings his breathy tenor, fluid clarinet and cirrus sounding flute along with the mix of Wycliffe Gordon/tb, Dan Nimmer/p Corcoran Holt/b and Chuck Redd/dr for an anthology of tunes from the penmeister and arranger Neal Hefti. Hefti made his name writing scores for Count Basie and then made a few bucks doing films like "Barefoot in the Park" and TV themes like "The Odd Couple." He even married the babe Francis Wayne-whatta guy!
Alas, I digress. Anyway…
Gordon shows up with his trombone on a handful of the tracks, adding some nice texture to the strutting "Odd Couple" theme and adding fun 'boney effects here and there while Cunningham's tenor oozes warmth. Some blues strutting on "Shanghaid" has Gordon soloing with ferver, and the two horns hold back gloriously on the gentle blues "Li'l Darlin'". Cunningham's licorice stick is playful on the bopping "Scoot" and sleek on "Barefoot In The Park" while a gospel-grooved "I've Got Love" has him cruising over a testifying rhythm section. The latinish "Suspicion" features a gracious flute, and Nimmer is nimble and quick on the dreamy "It's Awfully Nice To Be With You." This session's a winner!
by George W. Harris • September 25, 2014 
---
Australian-born, New York City-based Adrian Cunningham swings like mad on sax, clarinet and flute with special guest and playing partner, growling trombonist Wycliffe Gordon on this whole album of Neal Hefti compositions. Hefti was a big band and bebop trumpeter who arranged and composed for Woody Herman, Harry James and Charlie Parker and whose compositions were essential the Count Basie Band's revival in the 1950s. He also wrote scores for TV and film, Batman and the Odd Couple are his. The band is a New York City group, a piano trio plus Adrian and Wycliffe who have a lot of fun with this album of straight ahead jazz.
ABC DAILY PLANET march 2014 
---
Music Charts Magazine
Ain't That Right! CD Review
Trumpeter Neal Hefti played in bands led by Benny Carter, Woody Herman, Harry James, and others, and recorded with the likes of Billie Holiday and Lucky Thompson. In time he led his own band. Yet he is most important as a composer and arranger. He made his mark on popular culture by creating the theme for the television series Batman and producing scores for such movies as Barefoot in the Park and The Odd Couple. His writing contributed significantly to the smaller world of jazz. He wrote for many groups and arranged for jazz-oriented singers, including Peggy Lee, Frank Sinatra, and Mel Tormé. He arranged the music for the masterful Clifford Brown with Strings. His major contribution to jazz resulted from composing and arranging for the Count Basie band in the 1950s. The tunes immediately entered and forever remained in Basie's book. Partly because of his arrangements of them, the focus of the band changed. Previously, it had used arrangements primarily to set up solos by such musicians as Buck Clayton and Lester Young. In the 1950s, the arrangements of Hefti and others required the band to focus more on the arrangements themselves than on solos, though the band included solid soloists, including Eddie "Lockjaw" Davis, who is especially forceful on Basie (also known as The Atomic Basie), the initial Basie album of Hefti's compositions and arrangements.
            Australian Adrian Cunningham performs only Hefti's music on his newest release, and such a tribute is welcome. Though he plays some of the composer's most familiar tunes, many are not well known. Among the latter, surprises abound. "It's Awfully Nice to Be with You" is a pretty melody that Cunningham interprets slowly on clarinet and that features pianist Dan Nimmer. "Ain't That Right" and "I've Got Love" are in a gospel vein. Of these less familiar tunes, I find most rewarding "Zankie," a blues Hefti wrote for the movie Synanon. Cunningham (again on clarinet) takes it at an attractive deliberate tempo.
            In the notes to this release, Will Friedwald comments about Cunningham's probable rationale for omitting some Hefti tunes. He writes: "Some works are not included for the apparent reason that they've already been played so definitively that no one wants to come up with something that would, in all likelihood, be compared unfavorably to the iconic recordings." He identifies "Splanky" as a composition possibly rejected for this reason. His statement implies that the tunes Cunningham performs have not been recorded definitively. Though people can disagree about what constitutes a definitive recording, at least two of the tunes Cunningham chose to release strike me as not having been surpassed since Basie recorded them in the 1950s: "Li'l Darlin'" from Basie and "Cute" from the follow-up album, Basie Plays Hefti. If one believes that Basie's recordings of these compositions are iconic (perhaps Friedwald does not so consider them), then, according to Friedwald, later versions—such as Cunningham's—might reasonably be compared with them.
            The original "Li'l Darlin'" is probably one of the slowest big band recordings: it creeps along, with the beat sustained primarily by the light, almost unnoticeable guitar strumming of Freddie Green and bass plucking of Eddie Jones. Cunningham's tempo is a little faster than Basie's, but the beat on Cunningham's is heavy, not subtle. Further, Cunningham (here, on tenor saxophone) is joined by trombonist Wycliffe Gordon. The two men do as well as could be expected in creating harmonies reminiscent of those Basie produced with an entire band. However, Gordon's gutbucket playing during his interjections seems inappropriate on a tune of such delicacy. Within the context of Friedwald's comment, Cunningham should not have released this recording of "Li'l Darlin'," unless he did not mind having it compared with Basie's version.   
            Basie first recorded "Cute" as a feature for flautist Frank Wess and drummer Sonny Payne, on brushes. This skittish performance is all surface, precisely as suggested by the nature of the composition and implied by the title. There are several differences between Basie's and Cunningham's treatments of it. Cunningham's tempo is slower than Basie's. Though Cunningham is an able flautist, here he plays tenor saxophone; drummer Chuck Redd uses sticks, not brushes. After the melodic statement, Cunningham's recording turns into a typical jazz performance, with solos by the leader and the pianist before Cunningham and Redd interact toward the end. This selection concludes without restating the theme. That is, Basie honors the composition while Cunningham uses it as a means of getting to blowing. Cunningham's version is valid—using a composition as a taking-off point for improvisation—but it is exceptional only in the sense that it is different from any other interpretation of "Cute" of which I am aware.
          Despite Cunningham's and Basie's different approaches to some of the tunes presented on this release, the playing of Cunningham and his sidemen is engaging. Perhaps this CD of Hefti tunes will help this able, inventive instrumentalist become better known than he is outside Australia, as he deserves to be.
  Benjamin Franklin
---
Recorded during his most recent Australian tour, this CD showcases mainly original compositions inspired my Cunningham's travels since he left Australia nearly four years ago. It also adds a string quartet to his regular band. Cunningham has developed into a deeply intuititve artist, who can execute a diverse array of concepts with ease. Take his shivery baroque flue intro into Winter's end or the melancholy clarinet on What I can't Take With Me, which somehow embraces both promise and regret, beautifully bridged by a tastefully coloured piano solo by Bill Risby.
4 Stars. Peter Wockner
 
---
Billy Pinnell Gives Walkabout 4 Star ReviewPosted on November 3, 2011
Many thanks to Billy Pinnell for his ongoing support of Australian jazz. In the October 2011 issue of Music Australian Guide we were lucky enough to have him review Adrian Cunningham's acclaimed release Walkabout.
This 2011 release by the Adrian Cunningham Quartet featues Gordon Rytmeiser on drums, Bill Risby on piano and Dave Pudney on bass, with the addition of string quartet led by Phil Hartl.The album consists of original compositions inspired by his New York experiences and his travels around the globe…
"Having been based in New York City since 2008, multi-instrumentalist Cunningham reunites with his Sydney jazz quartet (piano, bass, drums) and a string quartet for his new album of mostly original songs inspired by his travels around the globe. The appeal of this release lies in Cunningham's ability to switch seamlessly between alto and tenor sax, clarinet and flute while integrating cleverly with his sidemen; laid back on In Transit (reflective of a long wait for a delayed flight), flat out on the tenor sax workout Baby Please Don't Go (for New Orleans)." (4 Stars) – Billy Pinnell
If you wish to purchase Walkabout visit our website www.newmarketmusic.com to order a physical copy of the CD or check it out on iTunes for a digital download.
---

Blow is a collaborative effort from two extremely talented musicians, Graham Jesse and Adrian Cunningham. The album features both artists displaying their multi-instrumental capabilities backed by a tight ensemble featuring some of Sydney's finest jazz musicians in Matt McMahon, Brendan Clarke and Hamish Stuart. Graham plays tenor, soprano and flute, while Adrian sticks with tenor and clarinet for this outing. An eclectic collection of audience-friendly original compositions by both leaders make up the majority of this album. The playing is tasteful and engaging and all of the songs are accessible and listenable. This is definitely not an album to frighten casual jazz listeners – no 'Jazz Police' warnings required!

The album opens with a dose of Graham's trademark funk on 'Funky Junkie'. Pianist Matt McMahon shows us the way, and the twin tenors take us home trading some tasty licks and tricks. '12,000 Feet' starts with a wink and a nod in the direction of Josh Redman's 'Freedom in the Grove' album before the catchy melody takes off and then it's up, up and away for the soloists. 'The Old Smoothie' presents a 1960s style swingin' blues groove that allows the soloists to stretch. The rhythm section are superb here, as indeed they are throughout the album.
 
Compositionally the most interesting work is Adrian's 'Dragonfly' where Graham's flute and Adrian's clarinet dance in counterpoint, joined by the rhythm section one at a time – a clever arrangement beautifully played and worthy of several listens, at the least.
 
One of the bonus pleasures of this recording is listening to Graham's flute playing throughout. I enjoyed his gorgeous sound and the fluency of his soling every time he played. Credit should be given to the recording engineer who did a great job of capturing the warmth and depth of Graham's tone.
Adrian's clarinet was best represented in his beautiful composition 'For Our Children', where his lovely tone and fluency throughout the range of the instrument provide quite an inspiration for all those doublers out there. His playing on this piece in particular reminds me of clarinet virtuoso Eddie Daniels. For those familiar with the work of Mr Daniels you will know that is high praise indeed!
Congratulations to all involved in this album – great playing, interesting compositions and well recorded. A worthy addition to the Australian jazz library.
~ Matt Christensen
---
There's nothing old school about the Adrian Cunningham Quartet except the way they've recorded their new CD/DVD,
In Motion
- Live in Concert - As Cunningham tells Michael Smith.
"Jazz is best live," Cunningham explains. "It's a spontaneous thing, and we've done a couple of studio albums but there's just an energy on stage when I get these guys together - they're just a powerhouse - that studio recordings just can't capture. There's something really special about a live gig, so we thought why not?"
Joining bandleader, composer, sax, clarinet and flute player Cunningham in the quartet are pianist Bill Risby, double bass player Dave Pudney and drummer Gordon Rytmeister, and together they recorded two nights in the Sound Lounge in the Seymour Centre last Octobe, filming the second night for the DVD component of the release.
"That's why there are a few songs on the album that were on the studio albums, because I think the band plays them really well live and wanted to get some of that energy, and there are some new tunes."
the beauty of the DVD component of
In Motion
is you get a chance to hear some  of the stories behind the tunes.
"In terms of the way I view music and writing, it's something kind of personal and I get inspired by things that happen to me, as most artists do, so the events, the experiences and the people are just as important as the notes. So I like to let the audience knows where I'm coming from and that gives them an insight into the music."
There's a touch of the standup comedian in Cunningham too, especially when he introduces the tune,
Keeping Fit With Ken
, dedicated to the 70-year-old fellow jazzman Ken Sparks, with whom Cunningham spent a disconcerting couple of nights in Thredbo during a jazz festival.
"And I'll tell you what, when he saw the DVD and heard the story, Ken loved it! He's a real character. That was a funny experience. With that particular tune, I wanted to write something cheeky."
Like all compositions, but practically in jazz, it's all about translating the experience into a sonic landscape that has a strong melodic sensibility yet provides a strong enough launching point for improvisation. The tune
12,000 Feet
for instance was written about Cunningham's first experience of skydiving.
"I remember very cleary sitting in the plane about to jump out and I had  all this music floating around in my head, basically because I was scared shitless. So I had all these fast melodies and later came up with
12,000 Feet
from that experience"
~
Michael Smith
---
The Adrian Cunningham Quartert, In Motion (Newmarket)
 
The cute opening to this could have been, "Will the real Mr Cunningham please stand up?" But musicians, like actors, have wretched time being pigeonholed, and Adrian Cunningham should be applauded for his multiple musical hats. He is equally convincing across the whole jazz spectrum and his own band - with pianist Bill Risby, bassist Dave Pudney and drummer Gordon Rytmeister - only marginally narrows the scope.

Take the first three tracks of this live CD. Keeping Fit With Ken has Cunningham playing tenor saxophone on a high energy 24-bar blues in the '60s Blue Note mould. Ths second, Ubirr, places his clarinet in a context of such lyricism it could spring from the ECM catalouge. The third, Gratitude represents the West Coast big ballad school - and is therefore my least favourite piece on an entertaining album, accompanied by a live DVD, and launched at the Basement on May 8.

~ John Shand
 
---
Review: The Weekend Australian, Review, April 28 - 29
In Motion - The Live Sessions, Adrian Cunningham Quartet (Newmarket) **** (four stars)
ALL but three of these 14 cuts are compositions by saxophonist and leader Adrian Cunningham, recorded before an enthusiastic audience at Sydney's Seymour Centre. Cunningham is probably best known as saxophonist with Galapagos Duck. Most tracks have a funk feel, given variety by Cunningham's use of alto and tenor sax, as well as clarinet and flute. The style is extremly well-played, swinging mainstream. Cunningham's third CD uses the same line-up as his latst album, The View From Here, and the group's depth of experience is evident in cohesive grooves and similarly flavoured soloing, particularly from pianist Bill Risby. Tempos vary from the smoky late-night ballad Gratitude, to the jagged rhythm underscoring the double-speed melody line on hectic alto in 12,000 Feet. The Latino piece Caribe works well with Cunningham's flute, but along the way the rhythm section become a litle muddy, although drummer Gordon Rytmeister solos well. Georgia on My Mind is given a slow blues treatment, the alto climbing into near dog-whistle territory.

~ John McBeath
 
---
Any part-time jazz aficionado will tell you that, as far as wind instrumentation in jazz goes, it's all about Miles' trumpet and Coltrane's sax.
But accomplished Sydney multi-instrumentalist Adrian Cunningham is here to educate the casually curious mainstream audience otherwise.
Over the last few years Cunningham – who is a gifted saxophonist, clarinettist, flautist, pianist and composer – has risen to become one of the most versatile and sought-after musicians in Sydney.
"Saxophone is definitely the most prolific of the woodwinds at the moment," Cunningham explains. "But spare a thought for the 30s, where clarinettists like Benny Goodman and Artie Shaw were among the most famous people on the planet!
"Clarinet requires a lot stricter technique that the saxophone (not that the sax is easy either), but it require a lot more discipline and practice to get it sounding any good, And flute has been present in jazz since the early days, although not as a major voice.

"Each instrument ha a unique quality and character that I love to explore. When I pick up the flute I am a flute player, not a saxophone player who plays the flute"

The impressively diverse talents of Cunningham have been captured live on his third and latest release Adrian Cunningham Quartet In Motion – The Live Sessions, a CD/DVD package covering an October 2006 performance at Sydney's Sound Lounge.

"Live recordings have a very special quality to them; a spontaneity and energy that's often not found in a studio recording," Cunningham opines. "I wanted to capture my band in the heat of the moment.

"The opportunity for the filming the night was presented to me, and I thought, 'Why not?'. My original intention was to release just a CD, but I must say that watching the DVD really does make me feel I'm in he audience watching myself – which is a bit weird!"

Adrian Cunningham Quartet play Brisbane Jazz Club Saturday March 24. The Live Sessions out now through Newmarket Music.

~ Justin Grey 
 
---
When we think of jazz musicians we typically expect the best artists to be over the age of 50, after all they have had more experience and more training. However, once in a while we stumble across a young jazz artist who plays as if he has been playing for over a century and Adrian Cunningham is this type of performer.

Adrian Cunningham is a young Australian Jazz artist from Sydney who has the amazing talent of making his emotions metamorphous into beautiful songs. He makes playing the Alto/Tenor Saxophones and Clarinet look as easy as brushing your teeth. He composes heart warming songs by reflecting upon the emotions he has felt throughout a variety of life experiences and this allows his audience to share these emotions as they listen to him.

Having performed throughout Australia, Asia, Europe, The United States, and even Africa it is obvious that his team of musicians; Gordon Rytmeister: Drums, Bill Risby: Piano, Tony Azzopardi: Percussion, Stuart French: Acoustic Guitar, David Pudney: Bass, and Victor Rounds: vocals, are able to mix their talents into sounds that are universally enjoyable. He has also released 2 phenomenal CDs. His second CD "The View from Here" contains nine outstanding and emotionally charged tracks from beginning to end. Not only was the CD produced by him but seven out of the nine songs were also personally written by him.

As most of us know we usually buy a CD for just a few good songs, or even just one, but this CD has one great hit after another and will definitely not be a dust collector. It is not only just for Jazz lovers but for anyone who enjoys music that evokes true emotions and it would make a perfect addition to your Apple iPod play list. With fast songs such as "Unrequited," written about an unrequited crush he experienced as a 12 year old, your day is bound to start on an upbeat note and help motivate you to get what you want without being afraid. If you are drained from a hard day at work and flying away to a tropical island is an unreachable concept listening to the two part "Island suite" is the second best thing to being there.

Many songs by popular artists are often badly re-created and cannot compare to the original, but Adrian Cunningham's unique rendition of U2's "With or Without You" would surely make Bono and the band of U2 feel completely flattered. It can create the perfect romantic atmosphere for a special night for two, or can help you recapture the heart of someone you want back.

A definite hit on Adrian's Cunningham's CD is "Goodbye Soup," a song he wrote as a dedication to the closing of a popular Jazz restaurant in Sydney, "Plus Soup," that subsequently ended up not closing but just moving. "Goodbye Soup" possesses a sound that will instantly make you feel a sense of sentimentality, reminding you of your most favorite and cherished memories. As he describes, "Plus Soup felt like a comfortable pair of old sneakers" and you can feel that while listening to this song.

The fifth and most heartwarming song on the CD is "Bye You All." This song is dedicated to his father who sadly passed away 6 years ago. The loss of a parent is one of the greatest pains anyone can endure and shortly after his father's death he managed to masterfully compose all of his emotions into this song. He was able to capture the love he felt for his father with the intensity of his loss and brilliantly combined it all together. His father would undoubtedly be honored and very proud.

Many musicians cannot create a sound that is suited for all ages but this CD fits perfectly into all age groups. For parents who wish their young children and teenagers would listen to someone other than Britney Spears or Eminem this CD is a must have. For the teenage girls in your household Adrian Cunningham is not only talented but he is definitely easy on the eyes so you can expect all of those Justin Timberlake posters to be replaced. For the teenage boys this CD is sure to help them impress the girl they have been daydreaming about much more than 50 cent ever could.

Talent can raise an artist to a certain level of success, but to capture the hearts of truly dedicated fans requires much more. An artist must posses a talent that can produce music which can be felt internally and Adrian Cunningham enraptures all of this. His music will easily grab onto your heart.

~ Aparna Datta
---
When Adrian Cunningham launched his album Unspoken at Soup Plus last December, the jazz basement venue was about to close. So he wrote a piece called Goodbye Soup - but as you do - forgot to play it that night.

Now the popular venue has reopened again and Cunningham's band is there tonight. "Its good I'll get a chance to play the piece, but I'll have to rename it", he said.

Cunningham plays tenor, alto saxophones, flute and clarinet, having studied with the virtuoso clarinettist Eddie Daniels in New Mexico. What's his favourite instrument? "It's like a parent being asked who is his favourite child. I choose the instrument according to the song" he says. His alto influences include Charlie Parker and Cannonball Adderley and he's wrapped in Joshua Redman's playing. Cunningham keeps busy with John Morrison's Swing City, with James Morrison's smaller groups and playing sax at the capitol theatre. Tonight he'll be joined by the versatile Bill Risby on piano, powerhouse Gordon Rytmeister on drums and driving bassist Dave Pudney.

~ Barry Morris
---
Review: , May 2003. 
 Unspoken, Adrian Cunningham. Independent release
 ****(four stars)
Drummer John Morrison's Swing City, like so many big bands in the past, is serving as an incubator for outstanding young jazz talent. Adrian Cunningham, the lead alto saxophonist with the band since its formation in 1999 and now its featured clarinet soloist, has stepped out of the reed section to spotlight his prowess as a multi-instrumentalist and writer in this quartet session recorded last September. His sound and warm tone owe much to American star Eddie Daniels. Pianist Bill Risby, a daring, audacious and unafraid innovator, stamps his class on the session, spinning articulate solos with ease. Bassist Craig Scott is resilient and strong, and drummer Gordon Rytmeister a foundation of controlled energy. Australian jazz great Don Burrows describes Adrian's playing as beautiful. He isn't exaggerating.

~ Kevin Jones
Review: Australian Clarinet and Saxphone 
Blow - Graham Jesse & Adrian Cunningham
Back to the top